Pet Loss Poem
'Last Night'
Pet loss poem 'Last Night', is another wonderful example of a poem about losing a pet. It's one of the poems for pet loss that cover the theme of your pet watching over you and being near after they have left you in this world.
There are a number of dog poems and pet loss poems that cover this subject but this is my favourite of them all.
---
---
I've spoken to many people over the years who have experienced the feeling of their pet being near long after it has passed away.

Sometimes the pet seems to 'visit' them just to say goodbye and to let them know they are okay.

On other occasions the visits are of a more regular nature.
My Grandmother for example truly believes she feels her dogs jump up on her bed with her every night and she swears she can feel their weight in the bed and hear them breathing.

Others I have spoken to hear the pitter patter of paws in a regular pattern, up and down the stairs or through doorways, just like they would have done when their pet was still alive.
Many people write their own pet loss poem to honour their pet.

Feeling as though your pet is still with you must be a truly comforting feeling and I am sad to say I have yet to experience it myself.

It does give me great comfort to hear other people's stories of these experiences though and I would love to hear from anyone who would like to share their experiences for inclusion on this site as a comfort for others.
A pet loss poem is not only comforting when you feel most alone, but also unites you with the millions of other pet owners who love their pets as you do.
---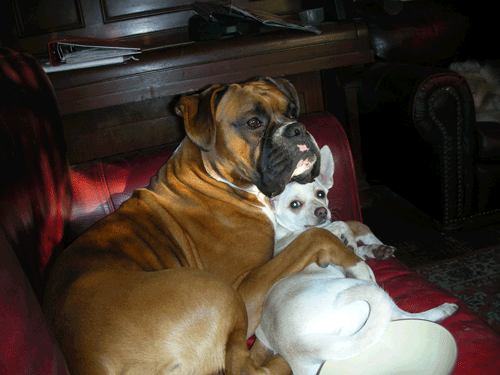 ---
Last Night
I stood by your bed last night, I came to have a peep.
I could see that you were crying, You found it hard to sleep.

I whined to you softly as you brushed away a tear,
"It's me, I haven't left you, I'm well, I'm fine, I'm here."

I was close to you at breakfast, I watched you pour the tea,
You were thinking of the many times, your hands reached down to me.

I was with you at the shops today, Your arms were getting sore.
I longed to take your parcels, I wish I could do more.

I was with you at my grave today, You tend it with such care.
I want to re-assure you, that I'm not lying there.

I walked with you towards the house, as you fumbled for your key.
I gently put my paw on you, I smiled and said " it's me."

You looked so very tired, and sank into a chair.
I tried so hard to let you know, that I was standing there.

It's possible for me, to be so near you everyday.
To say to you with certainty, "I never went away."

You sat there very quietly, then smiled, I think you knew...
In the stillness of that evening, I was very close to you.

The day is over... I smile and watch you yawning
and say "good-night, God bless, I'll see you in the morning."

And when the time is right for you to cross the brief divide,
I'll rush across to greet you and we'll stand, side by side.

I have so many things to show you, there is so much for you to see.
Be patient, live your journey out...then come home to be with me.


Author Unknown
---
Click here to return to the Petloss Matters Grief Poem Index

Click here to go straight to the next of our Pet Loss Poems



Click here to return to the Pet Loss Matters Homepage