Real Life Rainbow Bridge Stories'Ashley and My Husband Meet At the Rainbow Bridge'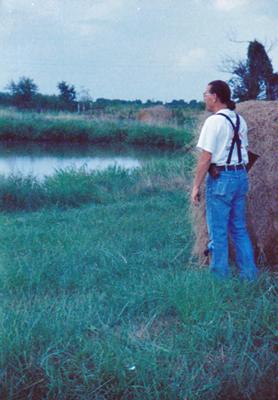 After two long years of battling cancer, my husband passed away in May 2010. Several weeks later Ashley Josie Prusik, our sweet old Beagle adopted from the local Humane Society became very ill. She had a hard life and no one expected anybody to adopt an old dog, but we did...

Ashley had come to us unhousebroken as she had been used as a 'breeder', so she wore diapers at the house, then suddenly for months she always went to the door when she had to go out! The vet was amazed how a dog so old could go from wearing diapers to being 'housetrained', there was no explanation.

My step-son was here and took her immediately to the vet so they could see how bad she was. He returned and we waited. The dreaded call came, it was time to make a decision. We drove up trying to prepare ourselves for the inevitable. When the vet brought her out her breath rattled loudly--a sound I had heard before my husband died.

While Ashley was in her cage she had soiled herself, and the vet said she seemed to be ashamed. As the vet prepared the injection we cuddled, cooed, reassured and loved on her as much as we could. And as the anesthetic took effect I told her, "Go meet Daddy on The Rainbow Road, and wait for me. I'll see you soon."

For months I worried because I said Road instead of Bridge, thinking she might get lost. I convinced myself the Rainbow Road could only lead to the Rainbow Bridge. On the 21st Nov 2010 I went to my husband's grave, sprinkled the ashes of our last 4 pets there and dried flowers from his funeral, and spent some time talking to him.

Early this morning 1st Dec 2010, I awoke to distinctly feel little feet walking in circles between MY feet at the bottom of the bed, making a nest to get ready to lay down---just like Ashley used to do. Ashley found her way, in spite of my mis-statement... I am rejoicing at the thought that my husband and ALL of our former adopted beloved pets and animals are together.

"No heaven for thee; no heaven for me"...