Why Pet Loss Matters?
About Me
Hello and welcome to Pet Loss Matters.
My name is Bunny Hankers and for the past few years I have been researching and studying everything I can about pet loss.
I currently live in the UK in a Victorian cottage which I have spent the past five years renovating, with my five dogs and three cats.
---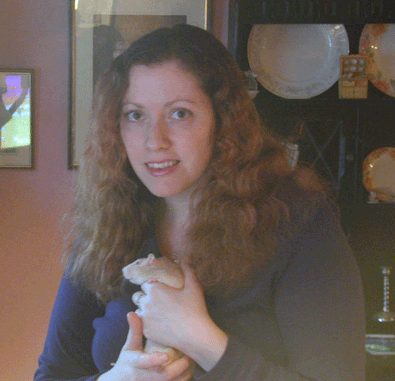 Me with Muppet - now at Rainbow Bridge

---
I am passionate about pets and pet care and have always wanted to work somehow with animals. When I was younger and fitter I did many sponsored swims and fun runs to raise money for local animal charities.
Once I was lucky enough to have my own home I started to fulfil my dream by rescuing unwanted, abandoned and homeless cats. I have always made a point of helping those cats who are elderly and/or sick or those who just don't fit the 'cute' category for whatever reason as I know most people like to adopt kittens or younger cats. But it has never mattered to me that they are sick or old, what matters to me is who needs my help the most.
"Love is not love
Which alters when it alteration finds,
Or bends with the remover to remove:
O no! it is an ever-fixed mark
That looks on tempests and is never shaken."
(Sonnet 116 - William Shakespeare)
I also rescue wildlife including hedgehogs and a few seagulls, anyone who needs rescuing really – and I will be adding their stories to the website soon, but am currently still desperately searching for pictures of them.
When not helping people or animals I can usually be found doing artistic endeavours such as glass painting, writing, designing new things for my house, which I then make myself and general diy, illness permitting. I've also been collecting paintings by Anita Jeram, the artist who illustrated the children's book 'Guess How Much I Love You', for the past 15 years, as she paints the most beautiful animals, and you never know one day I might even get around to framing them ; )
---
An early attempt at glass painting dedicated to my cat Spider

---
Every day I'm keenly aware of the fact that my pets make me smile and that sooner or later I will lose each of them, just as I have all those I've loved before them.
My mission is to help everyone who has loved and lost their pets to deal with their feelings and feel that not only are they not alone, but that their feelings on losing a pet are normal.
I would also like to help everyone who is yet to lose their pets make the best decisions they can when dealing with and preparing for pet loss.

So how did I come to build this website?
Well, I suddenly became sick three years ago with ME and Fybromyalgia and had to leave my job. It was difficult and upsetting to suddenly no longer be able to be so active and I had to learn whole new ways of coping with everyday tasks.
Little did I know that becoming ill would turn out to be,
the best thing that ever happened to me!
Although they are both debilitating illnesses, I am keenly aware that life could be a lot worse and that having them has given me the opportunity to spend more time with my pets, and to make me realise and remember what is really important in life and the dreams I've always wanted to achieve but had forgotten about along the way.
I had always wanted to help animals and work for myself but had never known how to do both and survive financially.
I had a basic knowledge of the internet so I decided to set up a website hoping to raise awareness of animal issues and perhaps make a small income.
I had no programming or website building skills so bought an online website package assuming I would simply put up my website and wait for all those visitors to come!
So I quickly put up a website and waited……
And waited……
Little did I know that simply putting up a website on the internet wasn't enough. I had no idea of how to get people to visit me. I thought it was just a matter of time before people started to find me, but still no one came.
So I began to search for a better way to build my website, one that actually worked and somehow, I don't even remember how exactly, I stumbled across SBI. This time I found something that worked.
And if you'd like to work-from-home or earn some extra money or maybe even just share your favourite passion with the world click here to learn more about Site Build It!


I know from personal experience that when you lose someone you love it can seem like your world stops turning. Everything can seem like it is suddenly crumbling around you, and whilst you may be surrounded by family and friends and work colleagues, it feels as though their world's continue turning unabated, whilst your's grinds to a sudden and screeching halt.


Despite the presence of all those of people around you, it is very easy to feel completely and desperately alone, and ironically it is usually the friend you have lost that you feel most like turning to. It can feel like you are frozen in time whilst everyone around you carries on as normal, and once the initial period of loss has passed, many people expect you to carry on as normal too.
But grief is not that simple, and why should it be? You have probably spent years together, pets have often been with us through key events in our lives, and often we find ourselves spending far more time with our pets than with anyone else, so why would we just move on so easily after their passing?
Grief is really a representation of our love. The deeper and stronger the love for your pet, the deeper and stronger your grief is likely to be. Your grief reaction to losing any important relationship is measured on the part the one you have lost played in your day to day life, the time spent with them, the significance of the relationship and your strength of attachment to them.
"Death ends a life, not a relationship."
(Jack Lemmon)
Remember the special bond you shared with your pet IS significant and valid, and worthy of understanding, and your grief is an understandable reaction to those precious bonds being broken.
---


All my life I have wanted to help both people and animals and through this site I hope to do both by providing a source of reassurance and mutual understanding where feelings can be expressed and shared for the benefit of both those expressing them, and those who read them.
One of the many dreams I had forgotten about, before becoming sick and having time to reflect, was that I wanted to one day write a book, so I am currently working on a book to help people who are suffering the grief of pet loss. It is taking quite some time however, as in addition to the fact that my illnesses make writing quite difficult, it is really important to me that I write something that will genuinely help people.
I hope this page has given you a little more information about me and why I built this site. Remember I am always very happy to receive your emails and if you would like to hear more please sign up to my Newsletter.

Wishing you and your pets a wonderful life,
Bunny Hankers xxxxx
"Keep what you've got, by giving it all away."
Click here to return to the Pet Loss Matters Homepage