Your Rainbow Bridge Stories
Many people believe in an animal afterlife and the concept of Rainbow Bridge and the hope that we will be reunited with our beloved pets when we ourselves pass away.
Many more believe that our pets remain with us in spirit and that they send us signs that they are still with us to comfort and reassure us in our grief.
---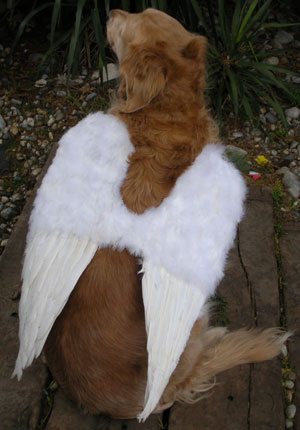 ---
Sometimes a familiar bark or miaow is heard, or the familiar sound of footsteps or scratching is heard in favourite places.
Some people are convinced that they actually see their pets or feel their presence around them, even feeling the weight of their pet on their beds or couches.


Click here to read Real Life Rainbow Bridge Stories submitted by other Visitors
Has this happened to you?
Have you lost a pet and then felt or seen their presence around you?
Have you seen 'signs' that your pet is still watching over you?
Have you experienced amazing coincidences that reassure you that there is an animal afterlife and that your pet lives on somewhere else?
Would you like to share your experiences to comfort and reassure others?
Real Life Rainbow Bridge and Animal Afterlife Stories
Do you have a great story to tell? Share it here!
Read Other Real Life Rainbow Bridge and Animal Afterlife Stories
Click below to see contributions from other visitors to this page...




Click here to return to the Pet Loss Matters Homepage