Real Life Rainbow Bridge Stories'My Babygirl Kelly'
by Melody Mandeville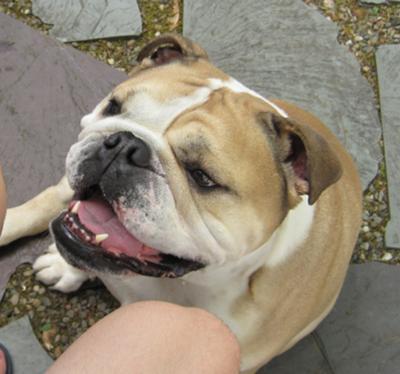 My brother lived in Boston, and told me he purchased a bulldog. Kelly. I couldn't wait to meet her (we had a bulldog Roxy growing up.) When I went to my parents house to see her I was instantly in love. Every time my brother came to visit, I would drop everything so I could play with her. At the time my husband and I didn't have the money to buy a bulldog, so I prayed to god if I could either have her or a puppy.

A year went by and my brother had started a new, demanding job. "Mell, I think you're going to have to take Kelly, she's always home alone and in her crate." I was overjoyed. My husband refused. I didn't care. He brought Kelly to my house, and she fell asleep with my husband on the couch. He fell in love too.

As with bulldogs, there is a lot of medical attention needed and Kelly soon had seizures. We got her on medication, and throughout her short years, with ear medication, vitamins, and cleaning her wrinkles and paws, we had "medicine time". She hated it, but sat still and let me take care of her every single day.

She had a wonderful life where we lived, visits to grandparents house, Petco on Saturdays for play dates, doggy daycare on Thursdays, and we lived in a cul de sac and she had the run of the neighborhood. Even the kids called out "can Kelly come out and play?"

Soon after, my husband's job had us move 700 miles away. Kelly and I were in a new neighborhood, and people seemed different. She couldn't wander the neighborhood anymore (fast cars) and the local Petsmart (40 minutes away) didn't have play dates. Needless to say we both were unhappy. She didn't have her freedom anymore and I don't have children except for her. Everyone here has children, so basically I was an outcast. I knew she missed Massachusetts just as badly as I did, but we didn't put pressure on my husband. He was working hard, and when I complained, he would feel guilty.

6 weeks ago, I had to fly home for my uncle's funeral. I've never left Kelly and my husband alone before. I'd never do it again. I was worried constantly and missed my babies too much. I came home and Kelly wiggled her body and gave me kisses, "I forgive you mom."

A week later she had got bitten by something, and the next day got pneumonia. She had 3 seizures in less than 5 minutes, we rushed her to emergency room and the vet told me she would be fine. "Pick her up tomorrow, but she'll have to wear an oxygen tank."

The following morning my husband and I drove, thinking "another medicine she's got to deal with" and 5 minutes before we got there the vet called and told us she stopped breathing. They performed cpr, but she passed on... probably not wanting me to be there because I would try to stop her from going. She was always there for me and I don't know how she can leave me behind?

I feel her weight when I'm in bed (she slept with me every night) I can smell her from time to time, and weird noises are coming from the corner where her bed was in the living room. I can't speak to my husband about these things, and everyone thinks I'm sick in the head already. I'm grateful to this website, knowing I'm actually not alone in how I feel. I think now, that Kelly was tired of medicine time and being bored in this house.

I'm praying to get a new bulldog puppy and being able to move back eventually. I always called her my babygirl and my angel. God gave her to me like I had asked. I hope he can answer just 2 more prayers.

I know I'll see her in heaven with Roxy, and now I'm not scared to die myself, she'll be waiting for me.

I love you Kelly! Mommy misses you!


Kelly 3/26/06-10/26/10