Real Life Rainbow Bridge Stories'Saying Goodbye'
by Alexis
(Hagerstown, Maryland)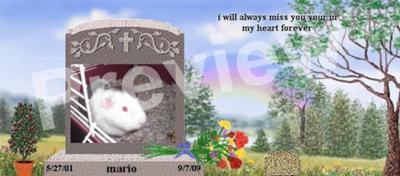 My baby boy Mario my beloved guinea pig was a rescue. When I first got him he was scared and confused but soon enough he warmed up to me having a little place in his heart for me. He came with his best friend Chan Chan who sadly died of diabetes.

He would protect him from anything I still remember that day he proved to be a warrior. We were outside they were happy eating the grass then a huge bird comes swooping down. Chan Chan bolts under a nearby car and Mario stays, he stood up on his hind legs jumping and then it flew away. I ran to pick up Chan and bring him backMmario licked him as saying it's ok now.

After Chan died Mario was depressed but we got a replacement Chan. Chesnut who we still have now they were best friends, like brothers. But pets do get old being 8 years old he lost his voice and had trouble walking and when we one day left to a party I gently patted his head and he started acting strange he ran around and jumped.

When... we came back he was gone... I cried and I didn't eat or drink that morning as I saw him die I looked out the window and saw a rainbow and knew he was beyond the clouds at Rainbow Bridge with Chan Chan happy and content. But he's still missing me, but soon I will be with him and Chan again to walk across the bridge together...
Join in and write your own page! It's easy to do. How? Simply click here to return to Real Life Rainbow Bridge and Animal Afterlife Stories.