Real Life Rainbow Bridge Stories'Look, Mum, I'm A Butterfly'
by Lynne and Gary
(Manchester UK)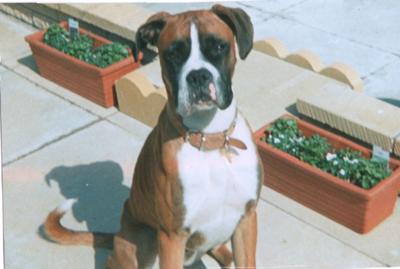 Lewis
I was having a low day one of many since the loss of my beloved boy Lewis sixteen months ago. I will have to tell you a story about my boy for you to understand why I was truly amazed and couldn't believe what had just happened.

My boy was such a handsome fellow and from being a baby he had a mark just under his nose down to his lip it was shaped like a butterfly hence the nick name we gave him butterfly lip (one of many nicknames). I would hold his head in my hands and say give his Mum a kiss on that butterfly lip, even now when we are looking at his photos we always mention his butterfly lip.

Several years ago on holiday I picked a book up it was called 'Angels Watching Over Us An Extraordinary Investigation into Experiences of Afterlife Communication' by Jacky Newcomb "The Angel Lady". I read the book and found it to be very interesting.

When Lewis passed away I remembered that in the book there was a section on pets so I got it out again after all those years and read that section over and over, I found it to be a comfort to me.

Now I can return to the beginning of the story, the day I was feeling very low. I don't know why I picked the book up but I did and I sat there holding it and said, Lewis let Mummy know you are OK, let me flick to a page and there be a message there for me, I closed my eyes and flicked through the pages, stopping and reading, there was no messages, none that had any meaning to me.

After doing this a couple of times I started to smile and said to myself don't be silly, if anyone saw you they would think you were crazy. I sat there and turned a couple more pages and then it took my breath away. I couldn't believe it in big capital letters it read:


'LOOK, MUM, I'M A BUTTERFLY

LOOK, MUM, I'M A BUTTERFLY,
I'M THE STARS IN THE SKY,
I CANNOT DIE.

WATCH ME, NOW, I'M FREE,
LOOK AND SEE.

HEY, MUM, I'M THE STARS IN THE SKY,
I CAN EVEN FLY.

LISTEN, MUM, I'M THE AIR THAT YOU BREATH,
I'M THE BIRDS IN THE TREES,
I'M THE FLOWERS AND THE SEEDS.

LOOK, MUM, I'M DEEP IN YOUR HEART,
WE'RE NEVER APART,
I'M ALL AROUND.

LOOK, MUM, I'M A BUTTERFLY,
I'M THE STARS IN THE SKY
I CANNOT DIE.'

Poem by Jacky Newcomb
I burst into tears. I truly believe that this was my beloved Angel Lewis, letting his Mum know that he is happy and free at Rainbow Bridge, waiting for that day when we will cross the bridge together into eternity never to be parted again. The strangest thing is I have read the book several times but I have never seen the poem. I love you Lewis Thank you.
To all who are grieving for thier beloved fur babies I hope this helps and that your pain eases with time.
May all our babies REST IN PEACE.