Real Life Rainbow Bridge Stories'It's Not Really Goodbye......'
by Joci
(St. Paul Mn)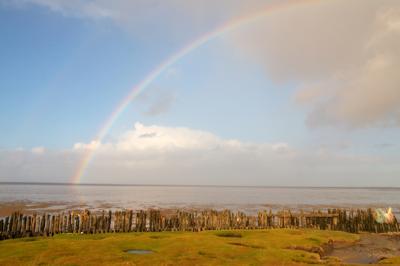 Two days ago on April 9th 2011 my husband and I had our beautiful calico angel put to sleep. We'd adopted her as an elderly kitty and at 16 her hypothyroidism, heart murmur,and kidney issues became too much for her to bear. That morning she came in to our bedroom to snuggle and be petted and we spent time explaining to her that we loved her and didn't want her to be in pain any more. Mark and I chose to be present when she passed. I wanted the last things that she heard and felt to be our voices and hands.

We ended up going to a family event that night, arriving home at around ten. My husband paused at the door, looking at me with tearfilled eyes. "I really don't want to go in there. Miffy's gone." He opened the door. My house had never felt so empty. I stepped in and saw one of her toy mice and a water bowl and immediately burst into tears, painful wracking sobs that felt literally like I was dying.

Somehow I managed to wash my face and brush my teeth. A bit aloof during the day, Miffy had always loved to snuggle at night. This would be the first night in four years that her purrs wouldn't sing me to sleep. As I turned to leave the bathroom, I heard a very soft meow and then the warm familiar sound of a cat's purr.

Shaking my head, I climbed under the blankets. "Mark, I just heard meowing and purring in the bathroom. So not only am I really really sad right now, I'm also going crazy." He was quiet for a moment then reaching over to hug me he whispered, "Then that makes two of us. I keep hearing the bell on her collar." At that same moment both of us felt something jump up on the bed and and settle between us. We stared at each other in shock and then the purring started. "Do you hear that?" I asked. "Yes." he whispered. "She sounds happy.

We drifted off to sleep to the sound of that purring. Even though my heart is breaking and I'm still crying at the drop of a hat, I know that she's in a better place and not in pain anymore.

It's not really goodbye...