Real Life Rainbow Bridge Stories'Bandit-Boy'
by Robin
(Mississippi)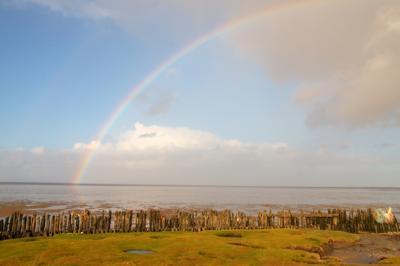 "Rain and Sunshine together means the Devil's beating his wife"- not to four of us that went to college together.

A couple years ago two friends of mine that were dating decided to go to the pound and adopt a puppy. They came back with a lab/doberman mix male pup they decided to name Bandit. He was bone-thin and extremely skiddish. Bec's boyfriend (Tate) lived with mine, and was where Bandie was mainly raised by all four of us.

I quickly taught him to stop at the tile, sit, and pee; before he would jump up in my arms and pee all over me (which everyone thought was extremely funny). Bandit was a quick learner, and the sweetest pup. He went fishing with us, learned how to "play" poker, car rides, was a scary protector, and when someone was laid back in a lazyboy chair, a blanket.

He and I quickly fell into the habit of taking naps in the morning before everyone woke up - they would find the tv on low with Bandie sprawl out on top of me and both of us snoring.

Unfortunately, after having him not even a year we lost him. We had a friend that graduated college and my guy, Tate, and I decided to go while Bec stayed home sick. Tate recieved a frantic call from Bec saying Bandit had run off over an hour before, and she didn't chase him down since she had Buddy (their 2nd older rescue dog) and thought he was just going down the road to the pasture and would be back, but he wasn't.

Tate and another guy took off and were at her place, which should have been a 30-45 minute drive - in 20 minutes. They road down to the pasture, but unfortunately found Bandit's body on the ride of the road, still warm. Some person (that they believe passed them when they were looking for Bandit) hit him and kept going. The only comfort we had was that he went instantly and didn't suffer.

The next day we went to bury him, and I felt like I should look up. When I did I was blinded by the bright sun, then all of a sudden it began raining while still sunshine. We still joke Bandit-Boy was peeing on us saying he was ok.

We all have had other experiences of Bandie checking in on us and letting us know he's close (feeling his heavy body laying on us, his tags jingling, kisses/breathes on necks, his smell) but we agree our favorite is looking like idiots smiling when sunshine and rain occurs at the same time.

Bandit will always be with us - smiling with the sunshine and peeing on us with the rain.