Real Life Rainbow Bridge Stories'Return of Tiny Bubbles'
by Isabel Andrews
(Fife, Scotland, UK)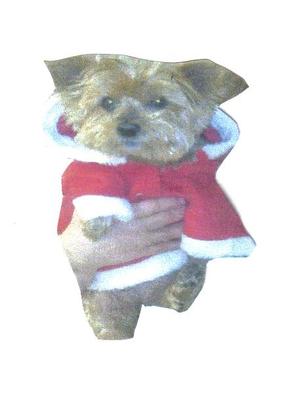 My elderly Yorkie passed away in May this year and and it's been hard coping with the loss in our family. One night I went upstairs to bed, I lifted my two small dogs a Lhasa and a Yorkie pup onto the bed, it wasn't long before they fell fast asleep.

Before closing my eyes I sent a thought to Tiny.. why don't you come let me know that you are ok and you have arrived safely. Just after this I felt the weight of her body on my lower legs and heard the loud bump on the carpet, the sound of her jumping from the bed. I felt a warm feeling of upliftment and peace and thanked her for coming and said god bless. I suddenly looked across the bed and the two little dogs were sound asleep undisturbed.

My clients all miss her at my dog grooming parlour. I have on display in the shop a memorial tribute to Tiny Bubbles a wee poem dedicated to her:


In a doggie castle just beyond my eye,
My dog plays with angel toys that money cannot buy.
One night as I was peaceful and sleep forsakes my eyes,
I'd hear her little paws, come running to my side.
She always snuggled close to me wanting to be near,
And I'd feel her softly muzzle my cheek, and always shed a tear.
She became blind and deaf, and near the end suffered a terrible seizure,
This was to be the end for God's little creature.
Who am I to wish her back, into this world of strife,
No play on our Tiny, for you have eternal life.
Join in and write your own page! It's easy to do. How? Simply click here to return to Real Life Rainbow Bridge and Animal Afterlife Stories.