Real Life Rainbow Bridge Stories'My Baby, My Angel'
by MaryAnn
(Orlando, FL, USA)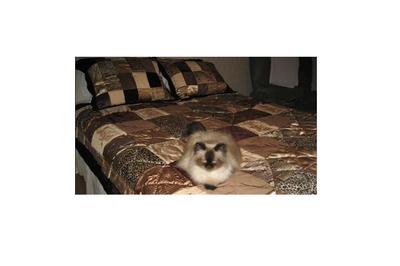 Baby came to us as a stray about 6 months before my sister died at 41 years old. Baby was a comfort to me during the time my sister was having a hard time, when she passed and the months of grief afterwards. I'm 44, single and never married and Baby became my little girl. I knew how to read her body language, her meows to know exactly what she wanted and she knew what I needed when I could not express it.

I could go on and on, but after 12 1/2 wonderful years with her, it was time for her to go home as we had just discovered she had a tumor that had grown on her ribcage within about 4 months. 2 days after being diagnosed she crossed the Rainbow Bridge.

Now, 5 months later, I still hear her meows - we have other kitties, but it's not their meow I hear. At night, once I get settled in my bed, it feels like she is jumping on my bed and then doing her little walk that she did before she laid down.... so I so do believe that our liitle fur babies spirits do stay and watch over us.

All in all, I believe that when Baby came to us, that God knew what life was going to be like when my sister died, and he took one of his angels and sent her to us in Baby. I thank Him all the time for the treasured time I spent with her here and I know I will see her again in Heaven. I'm taking the Rainbow Bridge when I go!