Real Life Rainbow Bridge Stories'Lady Protects Us and Is With Us Forever'
by Bev Cummins
(Pittsburgh, Pa. )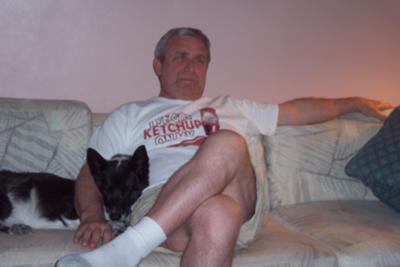 My husband and our Lady
Our 12 year old Border Collie was a rescue dog from a Pennysaver. We had lost a 17 year old rescue dog so we knew the ups and downs of owning a dog or it owning you.

We got her from a trailer park where she lived indoors with kids and two cats. I just knew I had to have this dog and even sneaked it into our lives without my husband approval. It wasn't instant love between he and Lady. It was instant love though, between my daughter and Lady who picked her up from the trailer park.

She was nervous and skinny. It didn't help matters I had snuck her in.. Anyway we had a beautiful dog that was smart, caring, and full of personality. for 5 blessed years. As suddenly as she came she passed on from a severe rapid illness. Devastated, we cried our eyes out.

The next day we had a Fios TV scheduled to be put in. The four hours they were there involved putting in cable in our cellar and going into 5 rooms of our house. Right before the Fios man left. He said "Do you have a cat? I keep hearing something following me around." He proceeded to look under my dresser as he spoke. I smiled. I said "No, but we suddenly lost our Border Collie Lady yesterday. It is just her."

I knew she was crossing the rainbow bridge to make sure her people were safe. It comforted all of us. This was April 7, 2010 this happened. We will love our Lady forever. We know she's with us forever.