Real Life Rainbow Bridge Stories'My Katy Girl'
by Marlene Slominski
(Oregon)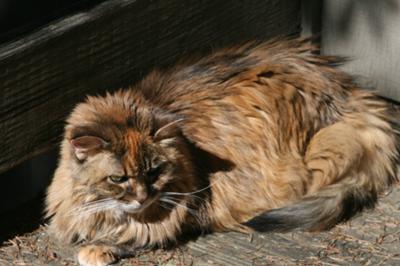 My Katy
I got my cat Katy when she was 3 years old. I didn't think I would like a long haired cat. My daughter at the time was with me and said to me, "Oh come on mom you need this cat." So I agreed. Saturday night March 6, 2010 at 8pm I put my precious dear to sleep forever. She was 17 years old. She was with me for 14 years. When I was getting ready for the Vet to put her to sleep I had my head down, crying she raised her head and our foreheads touched. I loved her and she loved me.

When I got home that night and sat in my chair I could have sworn I heard her purring. In the morning I could hear her purring again. I feel so good about that like she was telling me it will be ok, that I had to do what I had to do and now she was at peace, not in pain from Renal Failure.

Oh how I will miss her. She was the smartest cat I have ever had. It has really been hard today, the first time I came home from work without her, no one to greet me at the door. I plan on getting another kitty in September. Katy though will always and forever be my special friend. I am not sure how one can get so attached to an animal but I know now. I am comforted by the fact that she is at peace now, no more pain. It was the hardest thing I ever had to do, to say goodbye to her.

The long rest in upon us. Rest in peace "My Katy Girl", I will love you forever. My hope now is that she will come to me in my dreams. I do hope there is a Rainbow Bridge and we shall meet again on the other side.