Real Life Rainbow Bridge Stories'Kawika: You Never Left My Side'
by Kim and Mark
(Middletown, DE)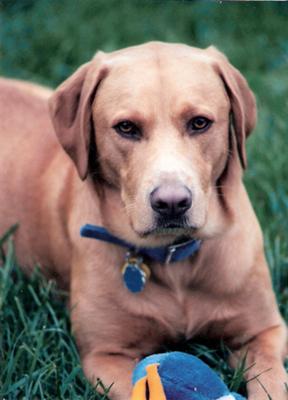 Kalani Kawika Peters

May 17, 1996 to January 20, 2012
He was an energetic alpha male yellow lab puppy who joined our family in Stafford, Virginia at the tender age of 9 weeks on July 28, 1996. We named him Kalani Käwika (King David) after the last King of Hawaii. He immediately brought much love to our family and received the same. He loved splashing in his small plastic pool in the summer, rolling in the snow in the winter, and chasing or being chased all year round. We walked him three times a day and he became our ambassador to the neighborhood. He had lots of human and four legged friends. He even had a yellow lab girlfriend named "Starr", with whom he sired two litters of nine yellow labs each time.

Our autistic son had trouble pronouncing Kawika's name, so, to our boy, Kawika became "Beaky". He had many other nicknames too like "Bubby", "Little Guy", "Puppy", "Booboobula", and "K-dog". We also liked to say "his goodness is only exceeded by his greatness". He once won an award in a community Halloween dog show for "Happiest Tail".

We moved to Poway, California in June 2001. Our backyard was much smaller, consequently his three walks a day became much longer. He became a local celebrity (sort of) when his photograph was featured in a local newspaper article about Old Poway Park. He took himself for a walk one time and ended up in a neighbor's pool. The water was deeper than he expected and he had to be helped out. The neighbor correctly assessed Kawika was not much of a deep water swimmer.

Kawika liked to have all the family members in the same room, however, at bedtime he would race us upstairs to the master bed so he could get the best spot right in the middle. The only exception was when he helped our oldest daughter graduate from college by staying up late with her while she studied. He also loved to get involved in family rough housing. The interesting thing was that he always joined in with the winner beating up on the loser. He was no dummy. But, if any of us were ever threatened by a stranger, his fur went up and a low growl let us know he was there for us (semper fidelis).

In October 2005, we moved to Middletown, Delaware. He enjoyed our new bigger backyard and finally realized being off his leash was fine with his human family as long as he did not leave the yard. He rarely broke the implied agreement and, when he did, he never went far and always came home.

His last year and a half was not an easy one. He lost his hearing first, which seemed to affect us more than him. We talked to him often his entire life and worried the perceived silence would make him feel less loved. If it did he never let if show. He always perked up when another family member entered the room. His back legs began to give him trouble climbing the stairs, so we built a ramp where the steps to the backyard entrance had been. We would carry him upstairs each night at bedtime. Eventually his frequent need to water the lawn led to us sleeping downstairs with him to keep him company and expeditiously help him get outside when the urge hit him. Even in his final days, he wanted us close and seemed more at peace the more affection we showered him with. We will always love him, forever miss him, and pray to reunite with him in heaven when our time comes.

On January 20, 2012 at the age of 15 1/2 we lost our beautiful friend and I have cried every night since. But there have been signs he is still watching over us. Two days after his death I was awoken at 12:30am to a single loud bark in the hallway. Both my adult children heard it too.

Then a week to the day after he passed once again at 12:30am I was in a dream-like state and smelt a faint odor of soil and heard a loud thump of a tail wag. There was a image of a large dog in the room (believed to be a St.Bernard)sitting on the foot of my bed. To my delight I heard that familiar bark and whine Kawika used when he was excited. As Kawika approached me the large dog growled at him as to warn him he was to watch but not make contact. Then they all disappeared.

Finally last night once again at 12:30am I heard a loud single bark again in the hall. My autistic/mental challanged son came into my room and stated "Kawika." I do believe he is here watching us and keeping safe as he always did. One day we will all be reunited.