Real Life Rainbow Bridge Stories'I Saw You This Morning ......'
by Ed
(Denver, Colorado )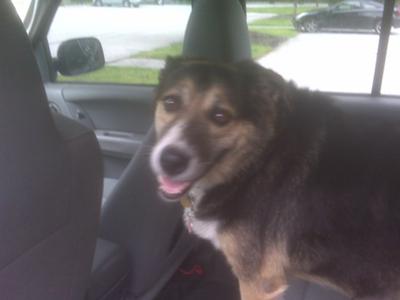 This is the story of an amazing dog-named "Co Co" whom I thought I'd "rescued" in December of 2009 but quickly came to realize actually rescued me …..

A little back-story on Co Co and how she became part of the fabric of my life…

November 28th 2009 is a day I will never forget, as it was the day I lost my dear friend Fritz. Fritz Schubert Gladys was my miniature Schnauzer that I'd had since he was only 3 months old. He was born in July of 1995 and became my loyal companion of almost 15 years that September… Fritz was an excellent dog. Sweet tempered but with the heart of a lion! In his golden years he developed diabetes and eventually lost his hearing, and sight. It was heart breaking watching him decline but he did so bravely, and with dignity. November 28th of 2009 is the day God called Fritz to come home, and Fritz answered..

Losing Fritz was hard. He and I had been together every day for 14 and one half years. My life, my heart and my home seemed emptier. Something was missing and it was the love and companionship of my dear old friend.

I found myself at the Denver Dumb Friends League adopting a 5 (or 6) year old female Border Collie/Aussie Shepherd mix named Co Co.

Co Co had experienced a harsh life prior to my adopting her & although there were no documented records of her being abused, I believe she had been.

Co Co is an amazing dog! She's smart, obedient, loving, playful, and loyal. How or why anyone could or would abandon her is beyond my comprehension but honestly, I'm glad "they" did, as their loss has been a wonderful gain for both of us!

We bonded quickly and our life together was filled with days of fun, adventure and friendship – I took her everywhere with me and she absolutely loved going for rides in the Jeep.

It's difficult to put into words how quickly CoCo stole my heart and how much she meant to me - She was special and I miss her more with each passing day ..

Over the Holidays she became deathly ill and I lost her in less than two weeks... The Doctor suspected she had somehow contracted the lepto bacteria and that it attacked her kidneys and liver mercilessly - Medicines did not work and Dr Pierce (God bless him) said that there was nothing else we could do to save my Angel.

December 27th 2011 CoCo crossed over to the Rainbow Bridge and my heart broke ..

CoCo is not gone though as I know I've seen and heard her in the house more than once over the past few weeks.

I know there is a Heaven and I know she's there but I also know she's still here watching over me.

Rest in peace my angel - You are loved beyond words, and missed beyond measure.