Real Life Rainbow Bridge Stories'Maggie, Chakotae and Piggy Come To Comfort'
by Donna Davis-Prusik
(Atchison Kansas USA)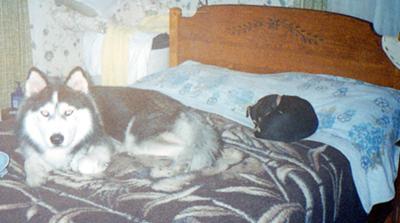 On Bed: Maggie, Chakotae; Cat = Piggy, The BirdMicester of Wesport
Please see my story, "Ashley and My Husband Meet At the Rainbow Bridge", the background there is essential to what follows, because Ashley was the first to come let me know she was alright on 1 Dec 2010.

Maggie was a small Terrier/Min-Pin mix we adopted from a person who adopted her from a Veterinarian in Cameron Mo. almost 16 years ago.

She was picked up from the street, pregnant and after placing the puppies at homes, she was doomed to be euthanized, but the vet couldn't because she was far too friendly--she needed a home since her original owners didn't want her back. She came eventually to live with us...

Chakotae was almost doomed at birth. He was born at a puppy mill in mid-state Missouri. When I heard someone say, "Does anyone want any Siberian Huskies? This breeder has some up for adoption." I immediately said, "I DO!", without even asking my husband, whom I eventually did convince that one more mouth to feed was a small concern.

At the mill (the first I had seen) there were all different kinds of dogs everywhere, loose and caged, I was dismayed, but determined to get at least one out of there. I was led to an area where the lady opened an elevated cage that had to have at least 15 Siberian puppies inside. She said, "Which one do you want? They're all male.", as all of them jumped to get attention. But I could never get past this one who was always in front of my hands and finally said, "I'll just take this one since he is up front." I took him home and my husband and I bathed him, he stunk badly from confinement. It was a warm day and we expected no problems... But later that evening he was lethargic, hacking and obviously sick.

I immediately called the woman I got him from and described his symptoms, she phone-diagnosed 'kennel cough' and I made a quick trip back to pick up meds. I arrived home late evening to find my previously adamant husband, "This is definitely going to be an outdoor dog!", cuddling the 10 week old pup wrapped in a blanket on his lap. We found out later that his testicles had not descended a genetic problem, that would have cost the breeder a lot of money. Chakotae had come to stay...

Previously, when we lived in Kansas City and already the owner of one cat, Callie, (that my husband, C.J. had rescued from drowning as a kitten in a rain filled trench) we met the back alley neighbor's cat, called Piggy. One day when I heard the man calling, "Piggy! Piggy!", then saw who he was searching for start in his direction, I asked, "Why do you call him, Piggy?" The man answered, "Cause he eats like one..."

Several weeks later we found out that the man had moved from his apartment and left the cat behind. Naturally, I just started feeding him on our back porch. He would hang around the neighborhood most of the day and report back for breakfast and dinner.

Late one night while we were sleeping we heard a loud hissing, yowling sound and a crash in the living room. We both ran to check and discovered that the screen window my husband had built for the large living room window had been decimated by Piggy, a large stump-tailed Tabby. To my chagrin, I noticed where Callie had been sitting on our sofa back and finally found her by following the trail of loose bowels that started at the confrontation site.

After the clean up, we integrated our orphans, by placing one inside a 50 gallon fish tank with a board across the top, while the other could walk around and smell and complain. (We couldn't afford to buy a crate.) We altered this until we became a two-cat household... Piggy was no longer a cast-off...

Two of the above animals ashes were included when I scattered the remains over my husbands grave 21 Nov 2010., the 3rd, Chakotae, was put under the roots of a new tree we planted in the backyard almost a year ago. Since my first spectral visit I have been concerned about this since Chakotae was not placed at the grave site. I wondered what would happen to him?


Early morning 13 Dec 2010, I felt small feet making a small circle beside my left leg, where Maggie used to sleep...

17 Dec 2010 early morning, I felt larger, but softer feet make a larger circle in the center between where C.J. and I slept... Right where Chakotae used to always sleep.

19 Dec 2010, in the late afternoon (Hoping to get a nap after waking at 5:30 a.m., the bed started to softly rock exactly as if a cat were on it giving itself a bath!

In each of these circumstances--no animal was present, except in spirit. They had come to reassure me that the "family" was gathering to wait for me.