Your Pet Loss Diaries'Barb & Anna'

Missing My Little Anna (Anna banana - as we called her) July 14, 2012
by Barb
(Kalamazoo, MI USA)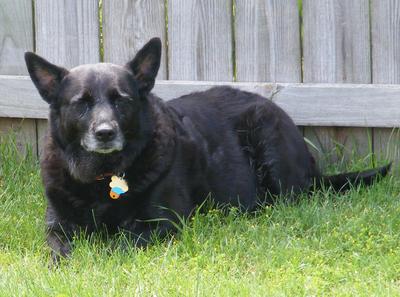 Anna's Easter - enjoying the sunshine 2011
It's been 3 months now since my baby girl left us and it feels like only yesterday. The sadness and the pain is still there. We miss her more every day. Little things remind us of the times we shared together and it still hurts. We have lots of photos to fill our memories of the good times, but it just isn't the same in our house without her.

Sometimes I think I see shadows and wonder if it is her, walking around the house and watching over us. She had been through a lot with us and she never once strayed. She remained by our sides till the end. I miss you Anna banana and I will always love you. No one will ever be able to replace what we had together. We were more of a family then a human and a dog. To me you will always be my little girl and I look forward to the time when we are together again.

Please wait for me and don't forget us. It's ok to play with your sister Nikki while you wait. Tell her we miss her still too (even after 10 years).

The loneliness was terrible. We did everything possible to stay away from our house until our little Anna was back home with us (we had her cremated - she now rest along-side of her sister Nikki in our bedroom). It took 4 days to get her ashes back and I can say it felt like an eternity.

Once home, we felt a little better but the house was still lonely. My husband, who stays home since his accident, feels the loneliness the most, because she was always right there by his side to keep him company until I returned from work.

A week after Anna left us, my husbands mother passed away. It was very hard for both of us. The loneliness was becoming unbearable so we decided to adopted two rescue dogs on May 25, 2012. A female Lab named Jesse & a Boxer named Silas, they are both 2. They came into our lives during a difficult time. Even tho they will never replace our little girl, Anna, they do help to keep our minds pre-occupied. They seem to sense our loss and are close to both of us.

I don't know if the pain will ever actually go away, but I do know, it is not as intense most of the time. I still wish my Anna was here to go camping and cuddle with, but I know she is no longer in pain. She endured a lot for us and now it is her time to rest. I look forward to seeing her again one day.

Good-night Anna, Mom and Dad loves you.



Click here to go straight to the next page of this diary