Your Pet Loss Diaries'Barb & Anna'

Wish You Didn't Have To GoSept 14, 2012
by Barb
(Kalamazoo, MI)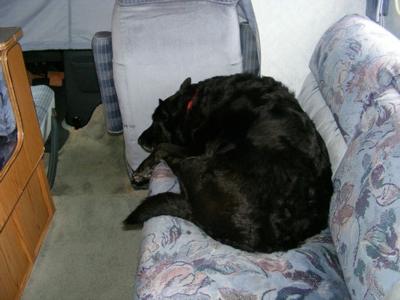 Anna at rest in RV 2009
While getting our motorhome fixed up (still haven't finished de-winterizing yet) and Summer is almost over. It is almost time to start getting it ready for Winter again.

Today when I stepped inside the motorhome, my chest began to ache. All the fond memories of Anna came rushing back. I miss her so much that the tears started and continued to flow for what seemed like hours.

I can almost picture her laying between the beds where she use to lay at night. I remember her sitting on the couch waiting to be loved and looking out the window. When I look to the front, I see her empty seat (front passenger seat), where she always sat on our many trips to the campgrounds. We called her "dad's co-pilot".

I can barely stand the pain, it hurts so much. This was Anna's home-away-from-home and she loved going for rides in it. She never missed an opportunity to jump in even if we were not going anywhere. I miss those days. Cut short by illness. She will always be missed.

It's hard for me because she was there through so many tough times. She gave me strength when I didn't think I could go on. She was my little girl and now all I have is memories of the times we shared. I wish she hadn't left us so soon. I had so many plans for her, Mike and myself. I look forward to seeing her in heaven.

Good night my little Anna - Momma loves and misses you with all my heart.
Join in and write your own page! It's easy to do. How? Simply click here to return to Your Pet Loss Diaries - 'Barb & Anna'.