Your Pet Loss Diaries'Bharti & Velvet'

Thank You Thank You Thank You... May 28, 2011
by Bharti
(Mason, Oh)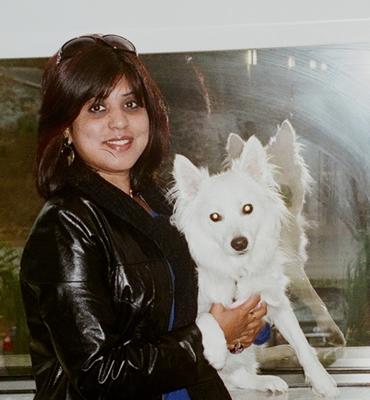 Yesterday for the first time I was smiling with all my heart since you left. I brought a candle for you, and while I was inserting your pic in the frame... as usual, I was talking to you... throwing volley of questions at you that why did you leave us, why did you love me so much that am unable to bear your loss etc etc.... when the phone bell rang, it was your papa other side who all in one breath informed me about the perfect arc shaped rainbow outside.

I immediately rushed out but couldn't see... just went lil further looking all around the sky and alas... I could see a beautiful rainbow. Needless to say, I was so happy that finally you gave me some indication that you are there waiting for me in rainbow bridge.

Within 5 mins... when I reached back home, I saw a packet on the doorstep containing your locket bracelet which was supposed to reach on 1st of June as confirmed to me. It was a miracle.... I was totally bowled over by your gesture. You are still the best... most caring baby. Now.. you are there in my heart and on my wrist too.....


Love you baby, you take care. Enjoy your time till I meet you.
Join in and write your own page! It's easy to do. How? Simply click here to return to Your Pet Loss Diaries - 'Bharti & Velvet'.