Your Pet Loss Diaries'Chris & Levi'

Going On A MonthNov 18, 2009
by Chris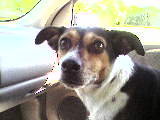 Missing you. In the afternoon when I get home, you aren't there to greet me. I just miss you every day. I go down to where we buried you every couple days and still can't believe that you are gone.

I will be happy when I see you again, little beebye.



Click here to go straight to the next page of this diary
Join in and write your own page! It's easy to do. How? Simply click here to return to Your Pet Loss Diaries - 'Chris & Levi'.