Your Pet Loss Diaries'Chris & Levi'

More MemoriesOct 30, 2009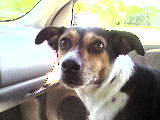 I have little pangs here and there, missing you. When I get home and I don't hear your "wooo, wooo, woooooo" because you're so excited to see me. I never knew I would miss you so much! And the times that you would come up and snuffle around my face and incessent kisses. The times at home are toughest because you are SO absent from the house. I miss you Beetle.



Click here to go straight to the next page of this diary
Join in and write your own page! It's easy to do. How? Simply click here to return to Your Pet Loss Diaries - 'Chris & Levi'.