Your Pet Loss Diaries'Chris & Silverbelle'

7 Weeks
A Surprise Arrived For Me in the MailNov 20, 2009
by Chris R
(Alexandria, VA)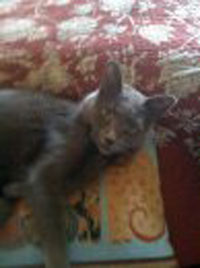 Dear Bip-bip (her nickname),


Well sweetheart, Daddy and I always talk about you and how it feels so empty without your loving presence around us. We talk about how we feel you at the oddest times and how we believe that God took you too soon so you are still here with us.
I arrived home today, and went to get the mail and I seen this envelope from the Vet Clinic. I opened it up and there was this white circular small dish which definitely was homemade that had your name and pawprints. I started to cry. Baby it was surprising to see your little pawprints there when the last time I truly seen them was when I went to visit you shortly after your death.
Bip-bip I miss you each and every day and sometimes I just look at your picture and wish to see your beautiful eyes look at me when I talk or sing to you. I love you so much and wish I could see you again..
As I am writing this with tears streaming down my cheeks please know that we loved you so much and you are so missed by us and your other little cat buddies especially Silvia-Rose. Although she may of picked on you at times she truly does miss you as we all do...
If I could have one wish it would not be for all the riches in the world. All I want is for you to be with me again and be a loving family again... I love you with every breath that is in me.. And I thank you and God for being in my life and teaching me to love and know it is possible....
Your loving mother
Mama
Click here to go straight to the next page of this diary