Your Pet Loss Diaries'Chris & Silverbelle'

The First Week Without My Baby28 Sep 09
by Chris R.
(Alexandria, VA)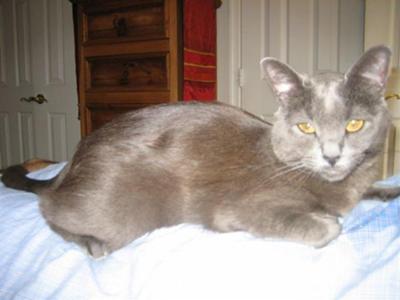 The weekend was horrid, all I did was remember her and cry. I felt so alone and desolute. My husband, was just as miserable and angry as I was. We kept going over the what if's and came to the conclusion she is no longer suffering and is in heaven waiting for us when our time comes. The only thing that sucks is she died alone. If I would of only known she would of been with her family.

The cats are still looking for her. Right now, two of them are fighting. Earlier in the evening her buddy Silvia Rose, was laying down like she use to do. It was scarey at first. Sometimes, Silvia Rose mimiced Silverbelle's behavior hence another example. Again, this evening we would by accident still call her name out loud when it was dinner or call the other cats by her name. It is though she is still in our thoughts so very much.

I was a bit peeved that her vet never called to send his condolences but when checking the mail this evening I noticed he did send a card which he hand wrote a note in it... So we thought it was a nice gesture. He knew we loved her so much we cashed stock in because we wanted her to have the best care we could afford. Now this money pays her doctor and cremation bill. I am a little scared when we get her ashes back. I know this is what I want but you think stupid things like she will haunt me or ????

I have been thinking how much I want to share her story and help other animals and after church last night. I thought about writing a book and all of the proceeds benefit an animal charity for cats. I do not know if anyone would be interested in her story but all I can do is give it my very best try.

I spoke with my mother last night to give her the news and told her that my life as I knew it is over. She did not understand how a 7lb cat could make someone like me love her like I do.. But all I pray is that my baby is happy and please let her know we miss her so much...

Love her Mama...



Click here to go straight to the next page of this diary
Join in and write your own page! It's easy to do. How? Simply click here to return to Your Pet Loss Diaries - 'Chris & Silverbelle'.