Your Pet Loss Diaries'Cindy & Stanley'April 14, 2011
by Cindy
(Los Angeles)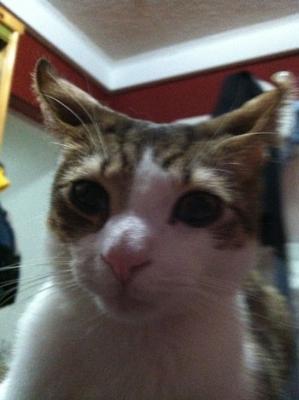 Another day has passed by. I still think all the time. Coming home was a little bit easier. Still found myself looking at your favorite spot on the edge of the couch. I'm still not used to the fact that you're not there.

I miss the way you'd jump on my shoulder and walk around the house with me as I settled in. I'd do anything to hear your purr. I'm afraid that I might forget what it sounded like. But then, Allison purrs and it reminds me of yours a bit.

I hope that you had a great day in heaven today. I hear it's a beautiful, sunny place to be. A place where you won't feel sick or sad. Play with your favorite toys, eat lots of yummy food, and don't worry about Mommy. I know that we will meet again someday.

I love you my baby boy.
Join in and write your own page! It's easy to do. How? Simply click here to return to Your Pet Loss Diaries - 'Cindy & Stanley'.