Your Pet Loss Diaries'Dayle & Oliver'

Oliver... I Miss YouMar 30, 2013
by Dayle
(Watertown, CT)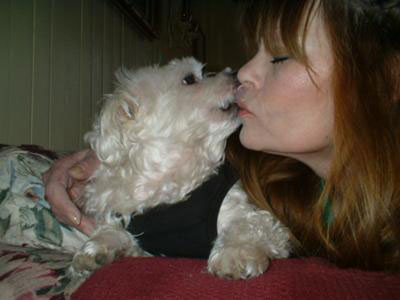 Dear Ollie...

I haven't written in a while. So much has happened. Wendy got pregnant. I saw her together with Ziggy exactly 1 year to the day of your passing. To me... it was a sign. I thought to myself... if somehow you might be coming back to me. I would somehow know. She gave birth to 5 girls & one boy. To me... I had to keep him. I named him Owen. He too...is such a good boy. Sweet & loving.

But still I cry for you every single day Ollie. It just is not getting easier. I still don't know... if it was the right thing to do. To let you go. Sometimes I think to myself... you tried so hard to fight. It wasn't right to put you to sleep. If I had it to do over Ollie... I don't know if I would have.

Knowing what I am feeling now.. .despite everything that happened... was it the right thing to do. I didn't want you to suffer... I couldn't stand leaving you at the hospital anymore... alone... going through things I could not see.... & not knowing what they did to you. You couldn't understand why I left you.

I thought to myself back then.... no one is going to hurt my boy anymore. I didn't want you to pass away without me by your side. Alone. You never left my side when I was so sick. You took such good care of me Little Buddy. But I couldn't do the same for you. I ask GOD every single day... WHY? HE has not given me an answer yet.

I hope that there is a place... that when my days here are over... I will find you my sweet boy. I miss you so much Ollie. Part of me is gone. I need so much to find you again. I love you baby boy.


Click here to read or post comments
Join in and write your own page! It's easy to do. How? Simply click here to return to Your Pet Loss Diaries - 'Dayle & Oliver'.