Your Pet Loss Diaries'Diane & Pasha'

My Baby AngelSept 29, 2012
by Diane Broomfield
(Midland, Mi)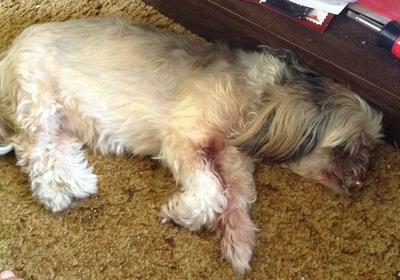 It's been a week one day since you crossed over the Rainbow Bridge. I still look around and see you in all the places you would lay. I hear your little bark everyday like you used to do when you wanted me to come. I know you are with God, and with Odie, and all the other animals that have crossed over. But Pasha I cannot accept you are really gone, I pray to God every day for strength to know I did the right thing. I didn't want you to suffer any more.

Baby misses you too, even Eddie looks for you, but I think baby is missing you the most.

Oliver is starting to settle in. He is so feisty, into every thing.

Pasha I talk to you and Odie all day, I pray for you and Odie every night. And Odie please look out for your little sissy as she is new in heaven and she will need her big brother.

Sometimes I feel so depressed I find myself crying uncontrollably, just wanting to have one more day with you, and I can't. I feel like I have lost another child, and sometimes I am so lost.

I pray for the day to come when I will see the two of you again, you will both be puppies, no cancer, no blindness, and you will hear my voice calling you.

The hole in my heart can never be replaced, you and Odie are right there always with me. I love you so so so much and I miss you more than words can express.

Please you and your little brother, sleep with angels every nite till we are reunited again.

My love and hugs and kisses to my my babies Pasha and Odie, please never forget your mommy.