Your Pet Loss Diaries'Diane & Sassy'

So Lonely I Could Cry

Aug 2, 2009
by Diane Adcox
(Philda pa)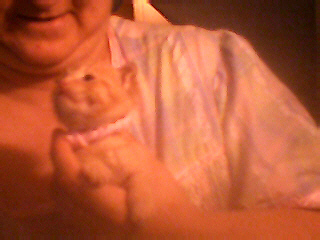 The last picture - Sassy with her collar I made her
I woke up from my nap today and I realized it was just me and Ozzy in the room. I sat up and started to cry I miss my little Sassy so much it seems like a year has passed but it's only been a little over a month since you passed away.

Ozzy still looks for you and he can't understand where his little playmate went to. Someone gave us Maggie, Ozzy seems to like her but she is not the same as my little piddlebug. The other night I played the Elvis radio station on tv in honor of you I wished you was here with us.

I have a picture of Maggie if Sassy was here I'm sure the two would have become the best of friends. I made Sassy a pillow and Maggie sleeps with it at night. Last night Maggie slept with me and Bill, she slept right near my heart and when I moved she would cuddle up closer to me just like Sassy used to do.

I wonder will the pain go away anytime soon?
Join in and write your own page! It's easy to do. How? Simply click here to return to Your Pet Loss Diaries - 'Diane & Sassy'.