Your Pet Loss Diaries'Jeannie & Rocco'

The Day I Lost My BabyAug 4, 2011
by Jeannie Bunts
(Philadelphia, PA)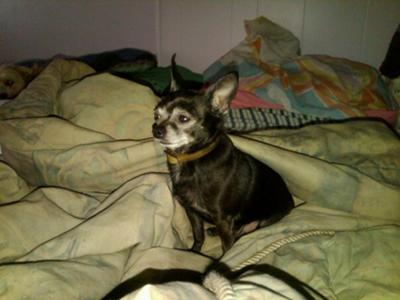 Rocco on my bed
My Rocco was never sick or anything so to hear he had cancer shocked me. About a month ago he just wasn't himself. He wasn't eating like normal. I took him to the vet and he thought he may just have a cold so he gave me meds and nutri-cal and sent me on my way.

We finished the meds and he was just not getting better so I brought him back the Monday before last and at this point he had lost weight and the vet said he felt he was in congestive heart failure and asked if he can do an x-ray. The x-ray showed he was in end stage lung cancer. His lungs were filled with tumors and he felt we should put him down. I was not prepared for that and he was not in any pain so we opted to take him home.

We knew there was no way we could cure him but he was still pretty normal but as the days went on he was not doing well. We decided to put him to sleep on Sat night of that week. I woke at my usual 5am and I found him on the floor next to his bed and ran to get him and he was dying right there on the floor. I held him close to my heart and kissed him as he passed. I felt his last heartbeat and just kept telling him I loved him and to let go and rest now.

He passed in my arms at 5:15am. A part of my went with him. I know he had the most amazing life and he was loved and treated as well as a dog could have ever hoped for. He was our world. My husband and I are separated at this time so I called him and he just fell apart. I wrapped him in his blanket and we took him to the vet and we are now waiting for his ashes.

I am in a state of denial at this point I think. I am doing everything I can to avoid dealing with my feelings of loss. I myself have cancer and am going through my treatments at this time and to lose my little love to the same disease is just unreal.

I love you my little Rocco and you will live forever in my heart!!!
Click here to read or post comments
Join in and write your own page! It's easy to do. How? Simply click here to return to Your Pet Loss Diaries - 'Jeannie & Rocco'.