Your Pet Loss Diaries'Jennifer & Bailey'

BaileyAug 31, 2010
by Jennifer
(Ohio)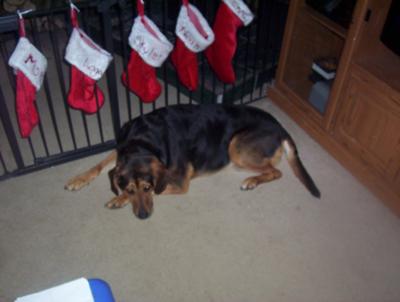 Bailey's last Christmas
It has been 10 days since my dog Bailey died. It is still hard to say or write those words. I am not crying every day any more but certain things are bringing me peace of mind. Like the flies, yes I said flies! My dog Bailey loved food (people food especially and even better if it were on the kitchen table.) Bai would even eat from a fork!!!! He looked part doberman and lab but was a coon hound mix.

Anyway, there have been flies around our kitchen table, not obnoxious but wanting the food. I swear I felt Bailey's spirit! He was kind of a pest at times and especially while we were trying to eat. His slobber would hang from his mouth and we would lose our appetite. I like to remember that stuff and the flies allowed me that.

Love and miss you Bailey!!!!



Click here to go straight to the next page of this diary
Join in and write your own page! It's easy to do. How? Simply click here to return to Your Pet Loss Diaries - 'Jennifer & Bailey'.