Your Pet Loss Diaries'Jennifer & Sugar'

Feeling Of Renewal and On the 'Ok' End of BadApril 13, 2011
by Jennifer
(USA)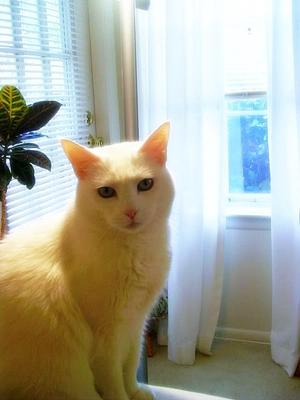 Sugar, it feels like you are really here, but it's just that your ill little body is gone.

Today is a nice, sunny but cool Spring day. Easter is coming, the time of renewal and Resurrection and fresh starts. The time of your passing couldn't have come at a more strangely positive and synchronistic time for both of us. I think we both feel free of our burden, of you being ill, and time for me to make fresh starts. But it is so bittersweet.

Our vet sent a sympathy card and I haven't had the strength to fully open it up yet. I will with Mom soon so she and I can read it together. I'm going to call the vet to thank her for such a thoughtful letter and for stamping your paw print on the card.. it really touched me to see that, but still, too painful to read just yet.

On the way home tonight in traffic, I had a Stevie Nicks song pop up randomly on the Ipod about healing Bombay Sapphires and mending hearts playing on the stereo.. and as I heard her lyrics, and singing about "I can mend your heart..." I notice an SUV, an Infiniti with license tags commemorating pet rescues/SPCA with a graphic of a cat and a dog embracing each other in a heart-shaped form. Wow. So synchronistic. It meant a lot to me to have that special personal moment.

So, as soon as I can afford it, I'm going to purchase the same tags for my car in your memory. You really truly mended my heart, that is for sure.

I'm now remembering that song is my Dad's favorite song by Stevie Nicks, Bombay Sapphires. He's a major cat lover.

Today I woke up feeling not as heavily depressed. I woke up this morning calmer. I'm thankful for that. I hope you woke up feeling that, too. You're still here at home, don't worry at all. I love you, Sugar Baby. Now it's time for dinner. "You hungry? Here, kitty, kitty, kitty..."



Click here to go straight to the next page of this diary