Your Pet Loss Diaries'Jennifer & Sugar'

Gone, Not Forgotten, But, Still Here ActuallyNov 7, 2011
by Jennifer
(USA)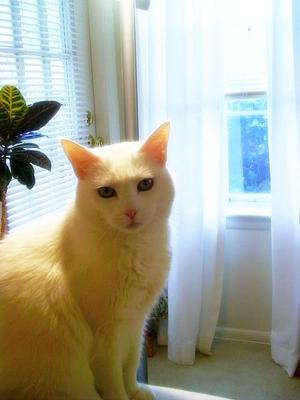 It's November now, and my pain over losing my kitty Sugar isn't as bad at all. Time has been kind, and I've accepted that I gave her the best life she needed. I have Sugar's boxed remains in a blue velvet bag tucked discreetly away in the nightstand next to my bed. So, it still feels like my companion is still with me, just not as she used to be.

I dream of her, too, pretty often. I look at her photographs, two of which I have visible in my home. It doesn't hurt to see her face like it did, but I really wish, daily, she was still here. It's amazing what a pet leaves behind. I know my boyfriend misses his dogs. Pets really are like children!

But, like all pets to their people parents, they are unique companions who truly add a deep dimension to our lives. Sugar comforted me during really tough times. She gave me so much joy, joy that changed me, because in those tough times, I learned to accept unconditional love from an innocent, loving little kitty who I dreamed of two weeks before I even set eyes on her.

I will always be an animal lover, but I think I will especially be a cat lover. Being a romantic, an emerging psychic and childhood artist and sensitive, I have a really special place in my heart for felines. They are so innocent and sweet, but just like canines, they are our angel guides.

One day, when I'm ready to be a pet "parent" again, I would love to bring home a dog and cat. But I want it to be the right time, and it's not now. I cannot afford the care it takes. It would not be fair to the kitty.

So, I've agreed that it needs to be another synchronistic event that will open my home once again to, hopefully two, pets that need me.
Boy, I really miss you Sugar! But I know you are here, right here, at home. I just can't see you. But I think you can see me.

Love,

Your Mommy.