Your Pet Loss Diaries'Jeter & Lee'

2 Months Today
Monday Oct 27, 2008
by Lee
(Sperry, OK)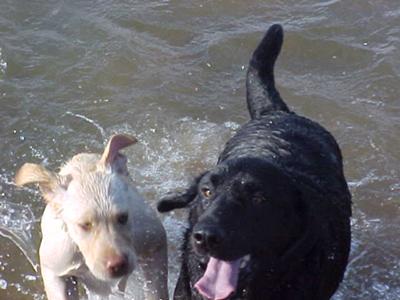 Teaching Boomer the Ropes!
My sweet Jeter has been gone 2 months today. I still miss him terribly. I walk by his grave and smile like he can see me. I put fresh cut roses on it now and then and say something to him like he can hear me....just in case. I hope he can, I hope he's by my side, and I know Jeter...if he has ANYTHING to do with it- HE IS!

I saw the most beautiful litter of white lab babies ready to wean and I held one but I knew there was no way one could take the place of my "Buggie" He had SO much influence on my life, I never fully realized until he was gone how much of a hole he would leave. It still hurts.

I try not to dwell on his death anymore or how much I REALLY miss him, I keep every thought pretty superficial. If I don't, I'd never stop crying for him. I planted some bulb flowers around his grave a week ago. In the spring I wanted him to have a pretty spot.

I miss my little black bear.....and I hope he's at peace and happy whever he is. He has taken a piece of me with him. It may be a hard day to go home today....all I have left are my memories, they seem an inadequate, empty substitute for my baby.



Click here to go straight to the next page of this diary
Click here to read or post comments
Join in and write your own page! It's easy to do. How? Simply click here to return to Your Pet Loss Diaries - 'Jeter & Lee'.