Your Pet Loss Diaries 'Jeter & Lee'

Letting Go
Tuesday Sept 23, 2008
by Lee
(Sperry, OK)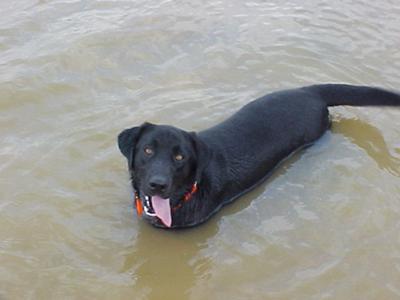 Jeter hunting minnows in pond
This weekend I have been thinking about the need to let go of Jeter and my sorrow. At times, when I am writing about him, it makes me sick like I am getting the flu or a bad cold....this is not good.

I need to let go of the sorrow because it is having an impact on my emotional and physical wellness. I think I can now even though I don't want to deep down. I know I have been trying to keep his memory fresh and that may not be the best for my health.

I'll always love Jeter and I will keep his memory with me always but I need relief from this hollow, sick feeling....I want to think of him and feel good about the good times we had and his devotion and love he had for his family.

I think I will always wish he was still here but I have to be realistic....he's not ever coming back and I know nothing I do will get him back. I have to settle for the good memories he left us with. It isn't much compared to having him by my side and loving him everyday in the flesh but it's better than nothing.

I will probably still write about him because I see it as a testimony to his importance and influence on my life. I loved him as much as I did a person and I don't see anything wrong with that....the love and commitment was real on both ends and that is a rare thing to have in this life, from humans or from animals.

I put Jeter's picture on my screensaver and it makes me smile everyday. Even though I am going to let the grief go, I will still look for my baby in every living thing around me, his spirit is somewhere and I will be looking for signs of it. I love my Jeter.



Click here to go straight to the next page of this diary
Join in and write your own page! It's easy to do. How? Simply click here to return to Your Pet Loss Diaries - 'Jeter & Lee'.