Your Pet Loss Diaries'John & Maximus'March 19, 2011
by John H. Edwards
(Bend, Oregon USA)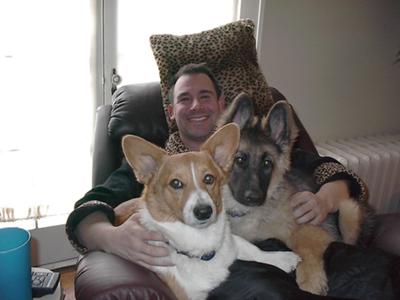 Maximus and Storm with Jamie
March 19th, 2011

Max, again today Jamie and I are in so much grief. We think about you constantly as we try and make it through the day. Knowing you're are not with us is numbing to our heart and soul. We did not realize what an important part of our daily lives you were, always happy. We miss your bark, the home is so quiet and cold without you. Whenever the doorbell would ring or someone would come around you would bark and let us know. You made us feel safe.

Jamie and I are having a hard time letting such a horrible thing happen to you. Last night, I played a short video of Jamie playing out back with you and your siblings. You were the only one that barked. You were wearing a cone around your neck that made you look so silly, you had minor surgery on your back before coming to our new home in bend.

Your 3 siblings miss you just as much. When they heard your bark from my video they jumped up and ran to the door. It was as if they thought you were back home. They recognized your bark, they lingered by the doorway for a while before lowering their heads and somberly laying back down.

There is snow on the ground, it makes things harder, I looked forward to our spring together as a family. You will be with us always, when the sun is shining and the flowers bloom, when we go on hikes or throw the ball it will be with thoughts of you. They say truth will come to you in a peaceful place, we know you are in a peaceful place. The truth is we love you now and forever.

Oh how we grieve for you little Maximus!



Click here to go straight to the next page of this diary
Join in and write your own page! It's easy to do. How? Simply click here to return to Your Pet Loss Diaries - 'John & Maximus'.