Your Pet Loss Diaries'John & MaximusMarch 21, 2011
by John H. Edwards
(Bend, Oregon USA)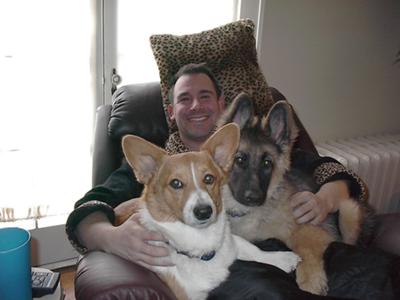 Maximus and Storm with Jamie
March 21st, 2011

Today is Monday, Jamie and I felt things were becoming a bit easier but we are only fooling ourselves. Every errand we made throughout the days are a reminder you are gone. I constantly step outside where I laid your flowers and cry. When the sun sets I light a candle for you, hoping you know we are missing you and will never forget.

When I let the other dogs outside to play I call out your name. Maximus! Sometimes I think I am going crazy but I do not care, because I know you hear me. Before turning in for the night I go outside where the accident happened, I open the plastic baggie that contains a lock of your hair that the ER doctor cut for me. I inhale deeply so I can smell you. Sounds nutty but it makes me feel better.

I am trying to stay strong for Jamie too, he is having such a hard time. Tonight he went into work with tears in his eyes and a broken heart. Another thing that hit me hard was when I would become annoyed or upset with you. The things that I now know made you so endearing! I would give anything to have those things back.

I am really tired now Max, Jamie too. We are not eating, sleeping or enjoying the simple things in life. We know you want us to get back to life but it is so hard. We move about like zombies, our physical bodies have no energy. Jamie has not gone swimming since that fateful night and you know how important that is to him. I can still barely roll out of bed. I have been forcing myself to carry on and comfort Jamie too. Inside I feel as though there is no light or love in the world. Have to tell myself this will pass but you will never fade away.

I look forward to the day when your memory brings a smile to our faces and joy to our hearts. I am crying right now because this journal makes it feel you are right here listening to me as I write. Jamie and I love you!!!!!!



Click here to go straight to the next page of this diary
Join in and write your own page! It's easy to do. How? Simply click here to return to Your Pet Loss Diaries - 'John & Maximus'.