Your Pet Loss Diaries'Meg & KC'

Lunch With Your Favorite VetJun 11, 2010
by Meg Loftheim
(Lakeland, FL)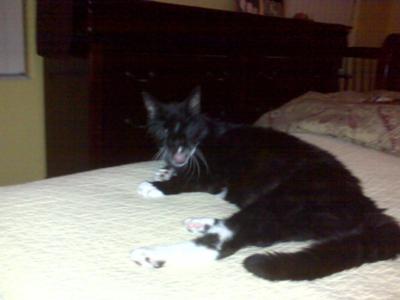 KCboy!
KC, yesterday I had a farewell lunch with Dr. Todd and his wife. He misses you also and really had a hard time talking about you. He was with you so much during your fight with diabetes and certainly was what gave us some extra time when you were diagnosed with a serious type of cancer. He is going back to school and I think you knew he was leaving and you didn't want any other doctor to take care of you. He told me you were a fighter and that he could see and feel the love you and I had for each other. He knew you held my heart. How true.

I miss you so and still smell your blankets and rugs each night. Dr. Todd's wife told me that when his dog died three years ago Todd couldn't and wouldn't talk about him. I guess that is dad. I miss you. I ache to hold you again. I ache to feel you on our bed. That will not stop for a long time. I call you when I come into the house. Marna wants to ask how you are doing when she calls. You were our "child!"

Dad wants to travel now and doesn't want another kitty... I don't agree with him and I know you are agreeing with me. Well, maybe not. Maybe you are telling me to get through this grieving time. Maybe I miss you so much I want another little kitty to fill the immense hole you have left in me. Why couldn't you just stay with me forever. I will be away from my computer for a while.

I may not be able to write for a while but I will write when I can. Just know, well you know as you are always with me, that you are with me even when I am not in the house or writing in my diary. I love you KCboy!




Click here to go straight to the next page of this diary
Join in and write your own page! It's easy to do. How? Simply click here to return to Your Pet Loss Diaries - 'Meg & KC'.