Your Pet Loss Diaries'Monica & Ben'

Another Day... Without BenJan 27, 2010
by Monica
(Colchester, VT)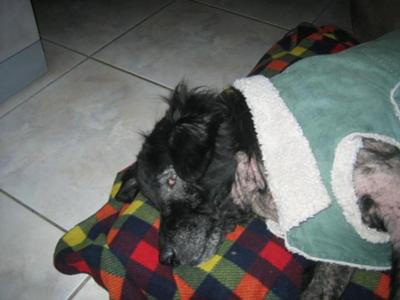 Sleeping comes fairly easy; as long as I hold Ben's coat I find comfort.

When I woke this morning I immediately felt the emptiness of our home. Even though Ben was not active I could feel his presence while he slept on his dog bed. It's hard to look around the house and not see him.

My husband Chris is heart broken. He tells me that no one can know how much he loved Ben; but I do because I loved him too. Our golden retriever, Sydney, seems to be sad too. She will sit up and look at me with such a sullen look on her face. She senses our grief especially when we just go to her and hug her. She is a great comfort to us, and I pledged to Ben that we will take good care of her "for Ben".

Yesterday afternoon I found several beautiful and cute photos of Ben when he was healthy. Today I am going to have copies made of my favorites. I will purchase the perfect frame for my absolute favorite and place it here in our home where we can see his beautiful face everyday. Chris and I chose a beautiful urn for Ben and I will order today.

Last night we decided together that we want to place Ben's remains on a Bombay Chest that sits near our front door in the living room. Ben could be found lying on the rug in front of it when we would return home.

My heart still aches; I know this is going to last for a while but I pray that each day will get easier.

Our family and my best friend Denise have been very consoling. Our son Dylan is doing "ok" in his words. Dylan was eight years old when we adopted Ben. Dylan was very active in many sports and Ben was Dylan's "number one fan".

Ben was so special he touched everyone deeply, that's why I will always believe that he was an angel sent to us by God.



Click here to go straight to the next page of this diary