Your Pet Loss Diaries'Monica & Ben'

One Week Later,Feb 1, 2010
by Monica & Chris
(Colchester, VT)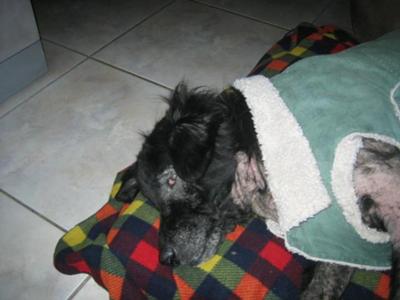 It's been a week since we said good bye to our "Beautiful Baby Ben". We know he is at peace now; and I think that Chris and I both find comfort in knowing that.

Our golden retriever, Sydney, is managing well at home while we are at work, although sometimes she just lies down and it seems that she is pouting. I have asked for Ben's name to be on the "Bridge List" for tonight's candle light memorial at 10 p.m.

We have received several condolence cards from our Vet and family members this week. We ordered Ben's Urn which should arrive by this Thursday. Ben's ashes will be returned to us next Monday, and we will bring Ben home.

I talk to his picture everyday; I miss him terribly, but every day is a little bit easier. Although I do admit that it takes time adjust to new routines at home that do not include Ben; luckily we have Sydney to guide us. She truly is a wonderful girl.

We are lucky to have had the "Bestest Puppy Dog in the Whole Wide World!!!!" (I used to tell Ben this all the time).
Join in and write your own page! It's easy to do. How? Simply click here to return to Your Pet Loss Diaries - 'Monica & Ben'.