Your Pet Loss Diaries'One Year Ago.....'

Aug 27, 2009
by Lee
(Sperry, OK)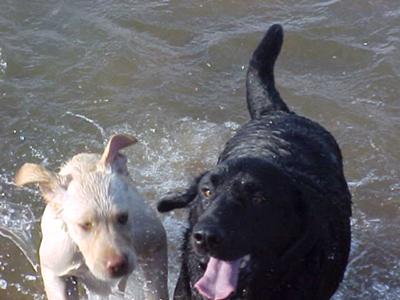 Jeter teaching Boomer how it's done!
It has been one year since my Jeter was put to sleep... it seems like only a few months and I miss him everyday. I am going to put flowers on his grave today and cry for the loss of one of the most gentle souls I have known. I miss him daily, I still cry if I am alone and allow myself to think too deeply about him.

I remember the feel of his fur, the devoted love in his eyes, and his happy face with his "talking" to me when I pulled up everyday from work. I miss him beating my leg with his strong otter-tail. I am going to do something special around his grave to decorate it and keep it nice.

This pain will probably never completely go away. But I try to remember how fortunate I was to have him in my life for 8 years. If people could learn how to love as unconditionally as our pets, this world would be a better place. I love my Jeter and I miss him. I hope there is a "Rainbow Bridge" because I am looking forward to that day when we can be together again.

I love you Jeter.

Momma



Click here to go straight to the next page of this diary
Click here to read or post comments
Join in and write your own page! It's easy to do. How? Simply click here to return to Your Pet Loss Diaries - 'Jeter & Lee'.