Your Pet Loss Diaries'Patricia & Buddy'

Thinking about BuddyMarch 4, 2009
by Patricia
(Woodbury, CT, USA)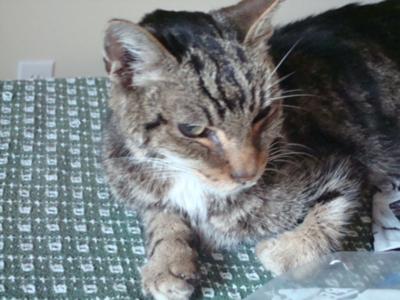 Buddy after he fell - Feb 13, 2009.
It's been two weeks and two days since Buddy was euthanized, three weeks since he seemed okay, and about four weeks since I remember him sleeping in front of the fireplace on a Sunday night. I've had a few moments when I thought some of the pain was diminishing and I've been able to go the entire day without crying, but then by the end of the day, I'm sobbing again.

I thought of adopting another cat, but then I realize that I'm not ready yet because it's Buddy I miss, not necessarily the company of a cat as I still have Little Monkey and Sparky. I called the vet assistant and asked her a "what if" question: what if I had left Buddy overnight on Thursday, Feb 12th for iv fluids, would he have had more time, etc? The vet assistant responded that Buddy would have gotten a reprieve but that the outcome would have been the same. I also wrote a letter and sent photos to the the vet because he was away on vacation when Buddy came to an end. I asked pretty much the same thing but also asked if I should have held off on the euthanasia.

He said that from what he had been told that Buddy was in really bad shape and that it wouldn't have been good to let him go on. He also explained that euthanasia was a peaceful way to go and he told me to not beat myself up over it. I also called another vet, described Buddy's final symptoms and asked what the best procedure would have been. And he told me that it would have been to euthanize. So all opinions and facts are pointing in the one direction, but it has still been hard to swallow.

I've also been searching through photos looking for anything that has Buddy's image on it. I found quite a few, fortunately, and they've given me pleasure to look at because a blind man could see how happy we were. I have one where I'm tickling his belly and he is curled up. He would supposedly bite and kick as if he were really fighting, but he never exposed a claw to me or accidentally bit or scratched me. There are several of me holding him - and lots of photos of him on different visitors' laps.

I was remembering today how I loaned him to my Father for a few days when my Father was going through chemo-therapy for cancer - and Buddy would sleep on my Father's lap in the rocking chair. My Father wanted to keep him to hunt mice, but I wouldn't allow it - and I wanted Buddy back.

I drove from Queens, New York yesterday because I had to drive my boss to the airport. Coming back, I noticed the signs for "Nothern Boulevard," and "Astoria Boulevard," not too far from where we once lived - and that made me think back to 13 years ago when Buddy was new in my life - and about how this is where Buddy came from.

I thought about the first night I got him to my apartment and I gave him a bath because I wanted to rid him of fleas. He escaped from me when I was trying to dry him and he was shivering under my desk and afraid. I gently retrieved him again, finished drying him and put him in a warm bed- and that was our first bonding experience. He always trusted me after that, and I always trusted him.

Whenever we moved, I didn't have to put him in a pet carrier, he would sit on my lap - and look out the car window with fierce curiosity, but he would stay still. He was so good. His absence is still ever present.



Click here to go straight to the next page of this diary