Your Pet Loss Diaries'Rebecca & Whisk'11 June 2010
by Rebecca Serrato
(San Pedro CA)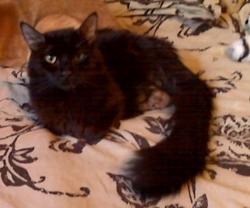 My silly girl
Oh my sweet Whisk, it had been 1 exactly month now and I'm not doing any better. I miss you so much. All of us do. I am so sorry. I wish I could have found out sooner about your bones. You know I would have done everything possible to fix you. I just didn't know. I would have sold my soul to save you, but I wouldn't see you in heaven then. Let me know you are ok. I need to know that.

I remember I asked God to let me know what you were feeling and then I had those terrible muscle spasms in my arm and shoulder. Remember I even had to go to the hospital it was so bad. I was in constant pain for over a month. But you never complained of your pain, not once. I'm so sorry when I pulled the gauze off your ankles and the blood stuck to it. I know it hurt when I pulled, but I had to keep that powder on your ankles so you would get better. And you alway licked the powder off when I wasn't looking.

Why couldn't you get better? I did everything possible, Dr Mike did everything he could. I followed all his directions, but I don't understand why it didn't work? Even if you lost all strength in your legs, I would have been there for you. I was already decided on how I was going to accomodate you to make things easier. You were no burden at all to me, not once.

I looked forward to to playing hide n seek with me when I call to find you to eat. You are my silly girl, poking your head out from under the bed and then popping into your donut bed. I had to move it. It's not there any more. And the first weeks you were gone, Misty, Prin and Honey would curl up on the floor where your donut was. They miss you too. in fact Misty still sleeps on the floor there.

I miss you on my pillow every night. Trouble is sleeping there now, but it's not the same. And Prin lays on my tummy too when I try to read. Honestly, I have not felt like doing any reading lately. If it wasn't for your memorial, I wouldn't even be on the computer. I lost my desire to do things. The pain is just as strong now as it was the day you went to sleep in my arms. At least now you are whole again to run and jump and not hurt any more. I just didn't want to let you go. You were a part of my life. You were with me through my ups and my downs, never judging me, just there for me. So why couldn't I be there to fix you? My sweet Whisk. Forever in my heart. Never to be forgotten. I love you girl!




Click here to go straight to the next page of this diary
Click here to read or post comments
Join in and write your own page! It's easy to do. How? Simply click here to return to Your Pet Loss Diaries - 'Rebecca & Whisk'.