Your Pet Loss Diaries'Rex & Tricia'

8th Dec 2008
by Tricia Gibson
(Augusta GA)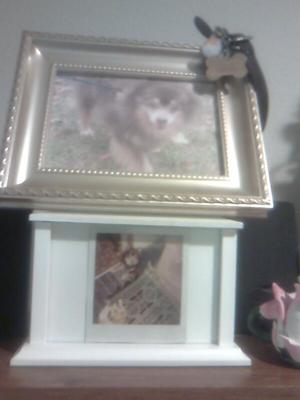 His Urn... My Whole World
Today I came home early from work. I had all these plans to do around the house. But feeling really sad today. I would be walking him right now, he would be so happy outside... World doesn't stop for your grief even though you wish it would sometimes.

I had a few small dreams of Rex but they have puzzled me. Knowing he passed away I thought a dream of him would upset me but it did not... In my dream I am holding him and petting him and I am not overwhelmed with "I have missed you feeling"... It's like a normal day and we are about to go walking. I was asking myself why I wasn't upset and crying in my dream. Then someone told me. Because he never really left you. He is here everyday. I asked for Rex to send me peace and I think he has in a way.

I woke with a smile no tears, just Rex and I was happy and it was all going to be OK kinda feeling. Smiling the way Rex liked to see me.

I loved him with my soul.


Click here to go straight to the next page of this diary
Join in and write your own page! It's easy to do. How? Simply click here to return to Your Pet Loss Diaries - 'Rex & Tricia'.