Your Pet Loss Diaries'Sharran & Thumper'

Happy Birthday Thumper 3 April 2010
by Sharran
(Melbourne, Australia)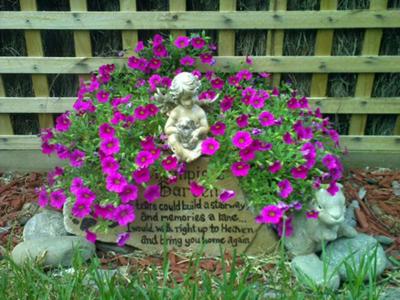 Thumpie's Garden Plaque for his garden
You would have been 3 years old today, my baby. Your very short life on earth has changed my life forever!! My life will never be the same again as you have turned the shape of my heart into the shape of a bunny!!

I miss you everyday, Thumper. I send Love & Prayers for you everyday too. Be Happy in Bunny Heaven.

We are still not ready to change anything in your room. It is still Thumpie's room and your garden is so beautiful.. I know that you still come and play in your garden and do your bunny hops & rolls and your bunny Grand Prix.

I love you always & forever my baby boi
xoxoxo

Grandma (your other mum)
ps: Lots of Love & Prayers for Meow Cat too.



Click here to go straight to the next page of this diary
Join in and write your own page! It's easy to do. How? Simply click here to return to Your Pet Loss Diaries - 'Sharran & Thumper'.