Your Pet Loss Diaries'Shelley & T-bone'

A Week LaterJan 21, 2012
by Shelley
(Green Sea, SC)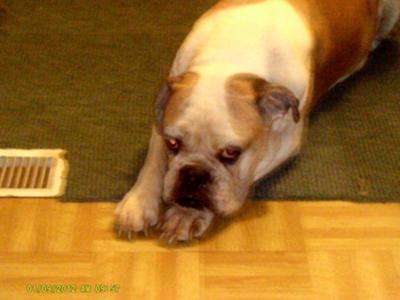 This day is especially hard because it is my birthday. One week and two days later and I am trying to not feel guilty about celebrating it. We always celebrated with Tbone giving him special treats and including him in the birthdays and holidays.

I almost bought his special peanut butter cookies with chicken mixed with soup and realized he was not with me anymore. I rub his pawprint every day and had to talk myself out of sleeping with his urn. I've been looking online at a site that replicates your pet with a stuffed animal. They look so real. I want a couple of them. One for the bed and one for the couch to sit with me.

I am so sad. Everyone is trying to be so kind and only 1 person has been hateful about him just being a dog. It was with my husband and when the person found out how long he was with us he shut up. I have his picture on my cell wallpaper and my laptop also. I wrote on the bottom our little angel, gone from our lives, always in our hearts.

We will miss our little Bubby. Always!
Click here to read or post comments
Join in and write your own page! It's easy to do. How? Simply click here to return to Your Pet Loss Diaries - 'Shelley & T-bone'.