Your Pet Loss Diaries'Tom & Sam'

Doubt Torments MeJune 24, 2011
by Tom Martin
(Beaufort, SC USA)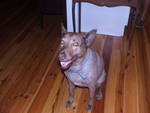 It has been more than a month since I put my friend Sam to sleep. She was such a beautiful dog, so sweet, and so loving. I have doubts about my own "salvation," and those doubts torment me about Sam because there is not one mention of pets in the Bible, or where they go when they die.

I "saw" her the other day, out of the corner of my eye, after having cried to the heavens to let me know SOMETHING about where she was. I suppose that was my answer, but I'm so full of doubt my heart aches all the time.

I miss her, and when I see another dog with their human, I always try to make contact. This gives me some relief of the pain I feel missing Sam.

I want to get another dog, not right now, but I would like to know that I can. My bride is not so enthusiastic about pets as I am.

Rudyard Kipling, in the poem "The Power of A Dog," says it perfectly well. We are fools to give our hearts to them, but we cannot resist.

They are such innocent and perfect creatures.

Sam, I always loved you, and always will.



Click here to go straight to the next page of this diary