Your Pet Loss Poems'For Gemma'
by Jon
(Redditch, UK)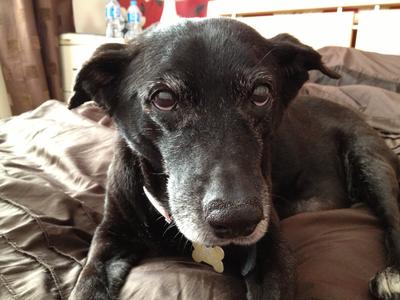 Our beautiful baby
I find it hard to express my feelings,
And say how much you meant to us,
This poem is just another poor attempt,
I'm being such a wuss!

I can't remember a time
When you weren't in our lives
We built our days around you
And that suited us just fine
You made us laugh, you made us cry,
Tears of both love and joy
You gave us all of your affection
Because you didn't care for toys
You asked us for nothing in return
Except for a bed, food and walks
And now your candle no longer burns
I miss all of our silly little talks

If we ever told you that you were naughty
Or were being bad
Don't believe a word of what we said
You were the best thing we ever had.
And if you ever see us shedding tears
I hope you don't feel we've let you down
We wouldn't ever want to think of you as disappointed
And wearing a sad frown

People say "I love you", almost every day
Half the time they don't mean it
It's just something humans say
I hope you knew it was different
When we said it to you
We really, really meant it
I hope you loved us too

I still can't put into words
How much you really meant to us
And yet as each moment passes
I know that try I must.
You were our best friend, our confidante
There's nothing more to say
Now you've gone on a separate journey,
I hope you find your way.
They say that there is a time for living,
And then it's time to sleep,
I guess that means it's now your bedtime
So rest your head my sweet
I hope your dreams are as beautiful
As you were to us
I hope you think of us fondly
And we were worthy of your trust.
Goodbye my sweet, goodbye my love
I promise that we'll meet soon
And on that day cross Rainbow Bridge and then jump over that moon.


Click here to read or post comments
Join in and write your own page! It's easy to do. How? Simply click here to return to Your Pet Loss Poetry.