Your Pet Loss Poems'Miss You, My Child'
by Meeta
(UP, India)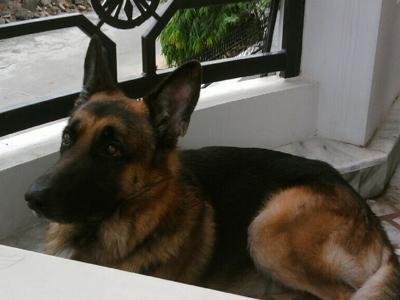 Miss You........
Life is going on without you... but it's so different!!
A void within, feeling of despair and choking pain every moment....
Wish it isn't real and just a bad-dream that would break --
and then all will be fine once I awake....


You aren't there ---

To wake me up in the morning, to join me at tea..
The morning sun moves out, the cool breeze blows past the balcony,
but you aren't there to enjoy them with me.
The newspaper lies unfetched and your egg-dish remains empty...


Miss you a lot ---

When you aren't there at the door to welcome
and jump with joy to see us back home...
Miss your showing-off attitude - to say, "It's o.k. why so much attention?"
You don't, anymore, rest your head on my lap to ask for more affection!!!


Feel your absence ---

The evening tea-time is almost silent-
The biscuits in the container stare vacant...
No urgency to finish work -- big or small
For it's no more time to play with you 'ball-ball'.


Miss your pranks ---

Papa's socks are kept carelessly --
Who's there to take them away sneakily?
The unwashed linens remain piled up on the floor --
You aren't there to sit on them to enjoy our body odour!


Miss your gestures ---

No one to get possessive when others hug me,
I search for those eyes which claimed, "Mamma is mine"!
What about our promise of everyday 'kissee'--
That I give ten and you, in turn, give me nine?


You enjoyed ---

How much you enjoyed the morning session of grooming...
Looked excited as I picked up your talc and comb for brushing!!
You had a sweet-tooth for ice cream and pastry;
But 'must' was meal of roti with milk or meat, else you would stay hungry!!!


You hated ---

Though a 'cool' guy you were, flies irritated you;
rats -- you let go, but got furious whenever the cats 'mew'!!
You chased away strangers at the gate, never stopped barking at a cow or a goat;
But wagged your tail lovingly at the limping dog on the road!!


You were handsome and friendly ---

Soft and silky fur, powerful voice, big in size --You were, a REAL German shepherd!!
The heavy paws and the sharp canines made everyone scared!!!
But those who got familiar, loved your warmth and friendliness ---
For you gave them nothing but genuine love and happiness!!!


You weren't brave----

Scared that you made feel everybody -
But coward that you were, knew nobody!!!
Sound of kids stamping on the floor, whistle of the pressure cooker,
A touch with the fencing -- found you run away in fear!!!


You were crazy ---

Be it lighting of candles or any firework ---- made you go bonkers!!
When the rest of your bretheren go hiding
As they are known to be frightened of crackers --
but you always went into euphoria to see the fire burning!!!


You were social ---

You always enjoyed being part of a gathering--
Be it Christmas, Diwali Or Bhaiya-didi's home-coming.
When you were not an active participant--
You just lay there to make your presence constant!


You cared ----

With you around, it felt comfortable and better
Whenever i was down with migraine or fever.
You licked my hand and cuddled up to me, and I knew,
The days I felt low, that you wanted to say,"Mamma,I love you."


Your love ---

You were my child, you were my true friend--
The best companion one can ever find.
Your love was pure and unconditional...
The world thought I was being too emotional...
But it's to be experienced to believe---
else, difficult for most humans to perceive.


You taught ---

All around, your presence spread positivity --
You were the epitome of true - love and loyalty.
You only GAVE ---- much beyond our expectations--
This way, you taught us to be better humans!!


Us -----

You were my 'baby' -- others calling you a pet or a dog, did hurt.
Destiny may have taken you away, but you are forever in my heart.
To share with the world the joyous memoir of you is delighting --
Let the pain of your absence remain within -- as part of my being....