Your Pet Loss Poems'Mitze - Eyes of Blue'
by Steve
(California)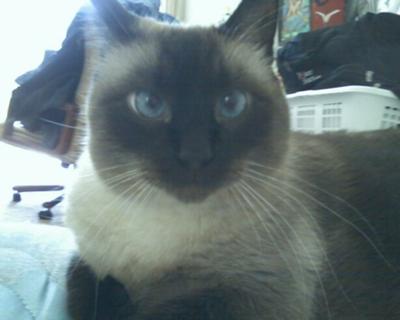 Mitze --- My Friend
Living life with nothing to do

I came upon a cat with eyes of blue

She was tough, on her own and trying to live

One night I decide it was food I would give

I set out the food and turned out the light

And to the cat I said "good night"

After a month and a half I had a friend

I invited her to stay with me to the end

She had her quirks as did I

But our five years just sailed by

I was amazed by how much I could care

For that beautiful happy ball of hair

Things changed an illness I could not mend

The decision was made for her life to end

The vet slid the needle in

And the end started to begin

I held her, watched and then I knew

That the life had left those eyes of blue

She is gone and I am sad

For sharing her life with me I am glad

In my end and my soul does glide

I pray to see blue eyes by my side

Until then I have much to do

Even though I will always miss those eyes of blue

Good Bye Mitze--I love you.
Click here to read or post comments
Join in and write your own page! It's easy to do. How? Simply click here to return to Your Pet Loss Poetry.