Your Pet Loss Poems'My Missing Bella Days'
by Ellen Mc Cormick
(Manchester)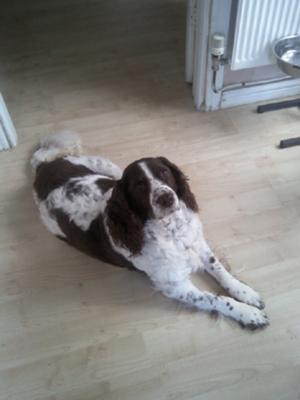 Bella waiting for her dinner.
Today I'm feeling lonely, today I'm feeling blue,

Bella my little girl, I'm so missing you.

Today it is a tough day, her company and more I lack,

And on these days I only wish, God could bring her back.

I know I have her memories, she placed those in my heart,

but today I find it hard to cope this, being far apart.

The knowing I won't see her now, my Bella my best friend,

Feels too much for me today, my mind won't comprehend.

But tomorrow is another day and for her I will cheer up,

After all she cheered me when I was feeling Yuk!

She wouldn't want her Mom feeling low or blue,

So Bella my sweetheart I'll wear a smile for you.

There no fear or pain confronts you now this I realise,

So I with tissue in my hand, will dry my crying eyes.

I have to let you rest in peace, although this hard I find

But both our hearts are locked together lovingly entwined.

I have treasured all her 16 years, these are mine to keep,

And they'll go with me everywhere, even when I sleep.

For those of you who have had their dog sadly pass away,

Will understand just how I feel, on this my miss her day.

There's a rose bush named R Bella, on the internet I found,

I cannot wait to buy it and plant it in the ground.

Every year that rose blooms, its fragrance fills the air,

I will kneel and smell its perfume and will know that she is there..


RIP, My Sweet Gentle Bella. XXX.
Click here to read or post comments
Join in and write your own page! It's easy to do. How? Simply click here to return to Your Pet Loss Poetry.