Your Pet Loss Poems'Sam'
by Tom Martin
(Beaufort, SC USA)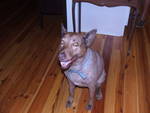 My friend Sam

We call them "pets," as if we own them,

They own us, too, at least our hearts.

These four legged angels in fur

They teach us how to love and express joy
are patient, waiting for us when we go to work or to play,

Never knowing if we are coming back;

(What do they think? Do they think?)

Are kindness when our hearts hurt, never knowing the reasons for our tears,

Are loyal beyond our need for it, the truest of friends;

Trust us, literally, with their lives, and have no choice, for we choose them;

Show gratitude, in a wagging tail, ears straight up in anticipation; (walk tonight?)

and in the smile we come to love (yes, it's a smile)

Give us hope, help us find peace and are content with us, their lot in life;

Forgive us our errors and sins against them,
even when we don't say, "I'm sorry . . ."

The way they love us,

Is the way we should love God.

When the time comes to send them back to Him, through sickness or old age,

We learn, the hard way, about mercy
(it shreds our hearts, having to dispense it)

This was the saddest thing I have ever done

Sam feels no pain, now, is at peace, and I pray, is in God's care
running free in Heaven

(but my name is Thomas, and like the apostle, doubt torments me
how to be rid of it?)

I miss her terribly

I always will.